Queue Management System for restaurants
Published:
25.07.2020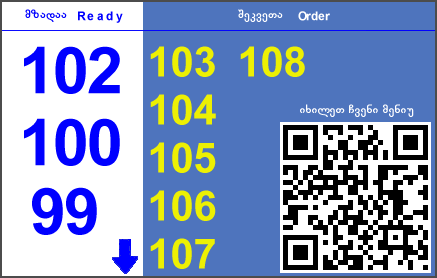 Oftentimes restaurants require queue management solutions; many fast-food restaurants have a monitor that shows the list of customers in the line waiting for their order.
Suphra offers one of these solutions that we like to call Suphra QMS (queue management system). It can be connected to a monitor of your choice via HDMI as far as 100-120 meters away from the main computer.
Every order is assigned a queue ID. The same ID is printed on the guest bill. Once the order is made, the ID will appear on the QMS screen. With the QMS Manager software, you can change the status of orders (e.g. "being prepared", "ready to collect" etc.). The pre-check and the main check both have a barcode and queue ID on them. One stays with the cashier, the other is for the guest.
Once the order is ready, the cashier will scan the barcode and mark it as "ready". After the order is taken away, it will be marked as such in the QMS Manager software and disappear from the screen.
Based on the type of your facility, we can suggest different ways of informing your guests about their order status; e.g. by sending a text message or letting them check the queue information in their web browsers.
Part of the monitor screen can also be used for running commercials or displaying the menu.